Mandarin Oriental Bodrum

,
Bodrum, Turkey
First Impressions
A song you should listen to when you arrive:
Neil Young – "Harvest Moon"
Best detail:
The view of the Aegean sea from the terrace behind the lobby.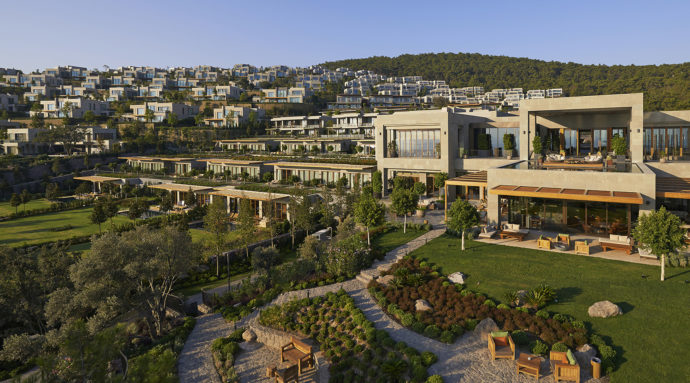 Worst detail:
In high season it can get pretty crowded.
Number of rooms:
136 including suites and apartments.
Something you will not find anywhere else:
A five bedroom villa with its own spa.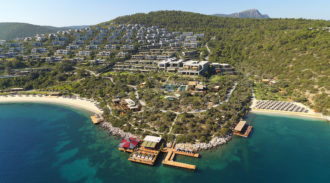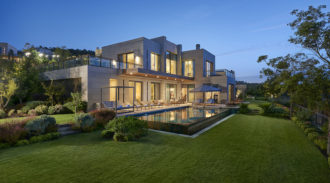 Best time of the day:
Sunrise.
Atmosphere:
Large modern luxury beach resort.
Architecture:
Modern, everything is build from opulent materials.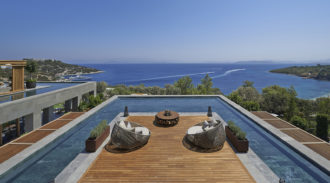 Room we stayed in:
Sea view room, 72m2 with a large terrace.
View:
Most rooms have beautiful sea views.
Neighborhood:
Only one other resort in the entire bay.
Welcome gifts:
Fruit basket as well as large teddy bears in porter uniforms for the kids.
Easiest way to get there:
The helicopter will drop you off inside the resort.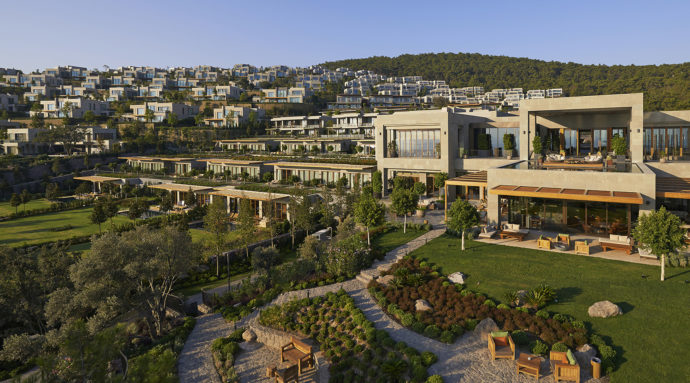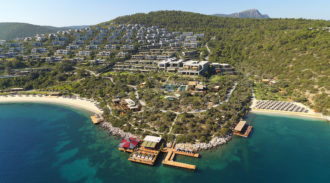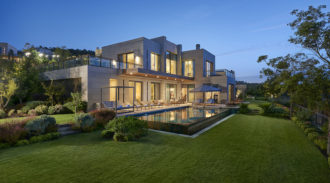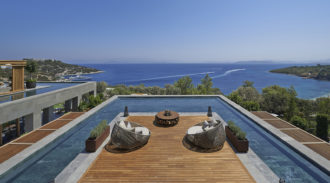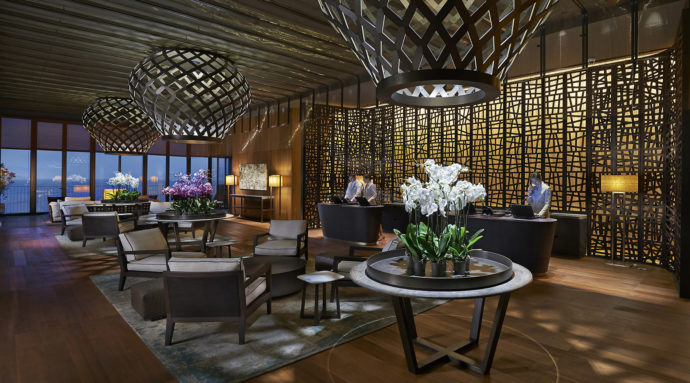 Service and Staff
Check-in:
Just a few signatures — while enjoying welcome drinks on the terrace of the lobby.
Front desk:
Very friendly, plenty of staff present.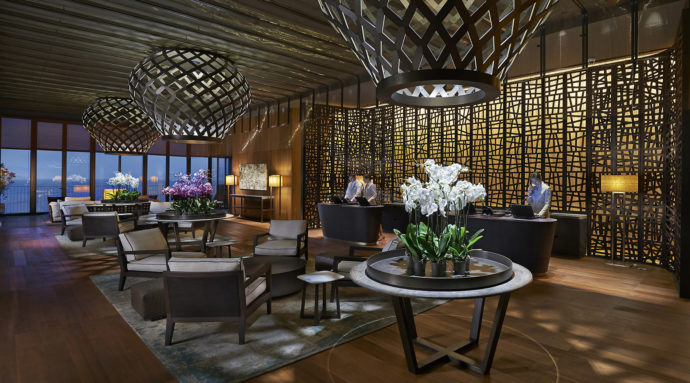 Concierge:
Excellent.
Room service:
Quick delivery and great quality.
Housekeeping:
Checks in a few times a day to ensure everything is fine.
Turndown service:
Yes.
Food and beverage
Restaurant:
Three restaurants. Don't miss out on the fish of the day.
Bar:
In the main building. Have a strong gin and tonic to prepare you for the evening.
Breakfast:
Incredible buffet with everything from barista coffee bar, to cold-pressed juice stand, pancake station and anything else you can imagine. A long, leisurely breakfast is so worth it.
Mini bar:
Fully stocked.
Complimentary water:
In your room.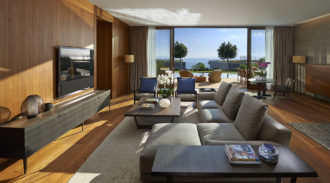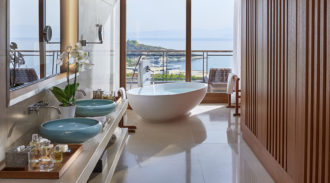 Amenities
Bed:
King size, of course. Soft and very comfortable.
Storage:
Very large walk-in closet, including one for laundry that the staff can open from the outside so you are never disturbed.
Bathroom products:
Acqua di Parma products in every corner including bath salts. Plus Marvis toothpaste.
Bathroom:
Large in size with His & Hers sinks and a lot of beautiful stonework.
Bathtub:
Yes, free-standing and large.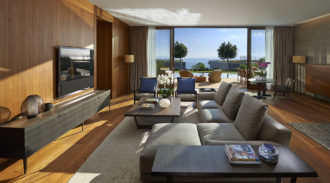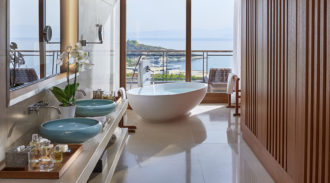 Shower:
Amazing, complete with a glass window that overlooks the bay.
Safe:
Of course.
TV:
Two large Bang & Olufsen screens, one in front of the bed, another in the wall across from the sofa.
Entertainment options:
Pay per view TV.
Spa
Sauna:
Separate ones for men and women. Very large with big windows and one wall built from black marble.
Steam room:
Yes, just as big as the sauna.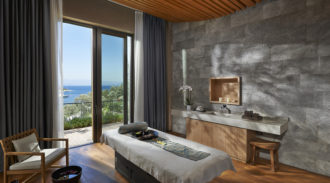 Spa treatments:
Eight treatment rooms and a couples suite, plus outdoor cabanas with a view of the Aegean Sea. A wide selection of amazing services — the hammam treatment is incredible.
Cold water pool:
Yes.
Plus:
Hot tub and a white marble hammam.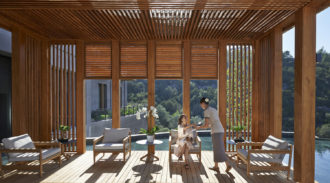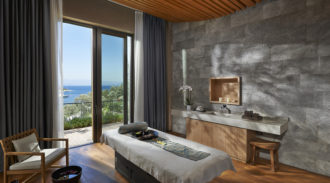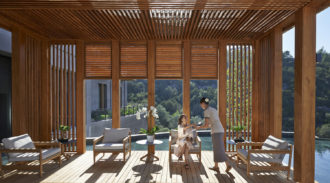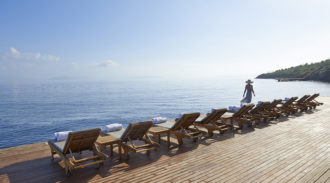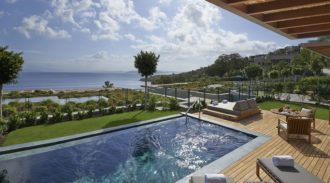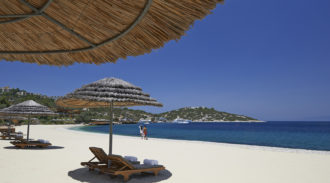 Pool and Beach
Pool:
Four outside pools, including one for kids and an indoor pool for adults only.
Beach:
Very large private beach — it can get a bit crowded in high season.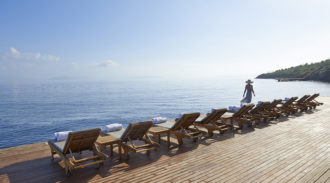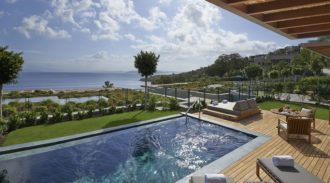 Towels:
Everywhere.
Sun chairs:
Comfortable, no linen.
Extras:
Plenty of water activities.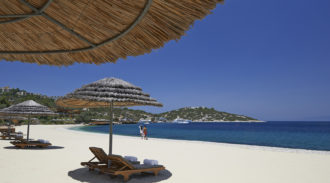 what to do
Fitness:
State of the art equipment including a kinesis wall.
Kids club:
Two locations, one by the lobby and one by the beach plus a large arcade room for older kids. The hotel is great for younger ones.