SUJÁN Rajmahal Palace

,
Jaipur, Rajasthan, India
First Impressions
Song you should listen to when you arrive:
The Beatles – "The Long and Winding Road"
Best detail:
The hotel's incredible color palette, especially the beautiful wallpapers.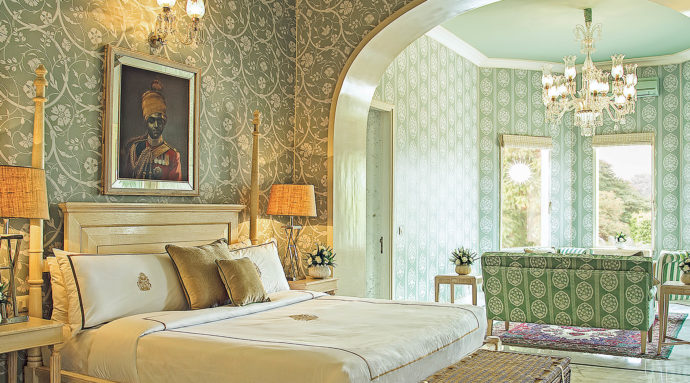 Best time of the day:
High tea in the garden. The scones with vanilla mustard and strawberry jam are to die for.
Atmosphere:
A stay at the Rajmahal Palace will leave you feeling like a guest of the Maharaja himself. Photos of the hotel's famous guests like Princess Diana and Jackie Kennedy only enhance the sense of luxury. Every room has different custom wallpapers, and the details of the marble floors make you constantly stop and take in the atmosphere.
Room we stayed in:
Palace Suite.
Neighborhood:
Outside of the old town of Jaipur, but still central and easy to get around.
Welcome gifts:
The best chai masala tea you will ever taste.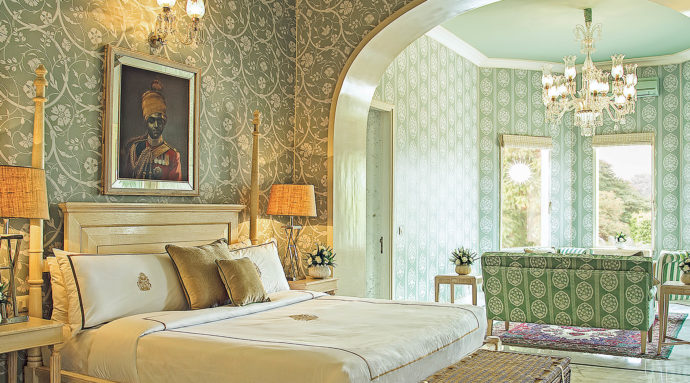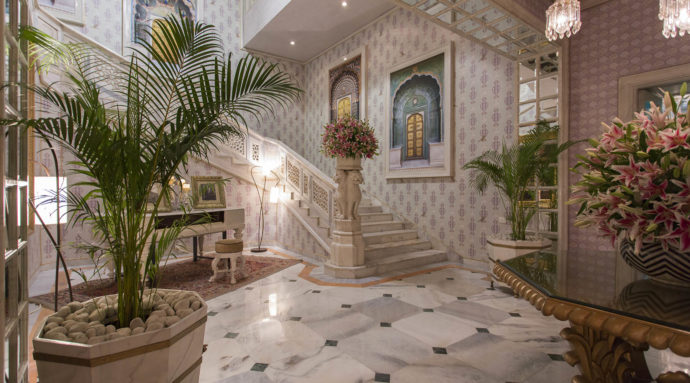 Service and Staff
Service and Staff:
Amazing staff that is more than accommodating to all of your wishes. The white tailored outfits with light pink turbans are the coolest uniforms we have come across so far.
Front desk:
Will help with anything, and since the property is owned by the Royal family, they always have an ace up their sleeve. Make sure you take them up on the offer to visit the city palace — they organize a stylish guide who escorts you through a special gate reserved for guests of the palace.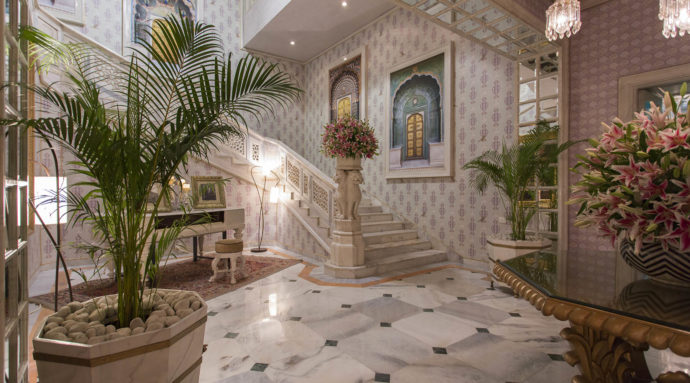 How long did the check-in take:
Two minutes.
Concierge:
Will sort out the best table at the best restaurant for you.
Housekeeping:
Invisible but always around.
Turndown service:
Of course.
Food and Beverage
In-room dining:
Very high quality Indian dishes as well as western classics.
Restaurant:
The bright wallpaper sets the tone for a special experience. Make sure to order Indian dishes as you will hardly find a higher end restaurant in Jaipur.
Breakfast:
Only à la carte, but incredible in variety and quality. In summer, have breakfast on the terrace as the view over the grounds is very peaceful.
Tea time:
Enjoy complimentary high tea every afternoon. There is no better way to take a break from the busy city life.
Mini-bar:
All the classics.
Complimentary Water:
In multiple locations across your suite.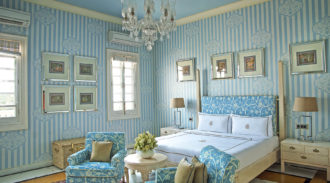 Amenities
Room:
Each room is different and makes you feel like you are in the luxury version of a Wes Anderson movie. The attention to detail is amazing and the mix of old and new is just breathtaking.
Bed:
King, high-quality sheets and a variety of pillows ensure that you will find your well-deserved rest.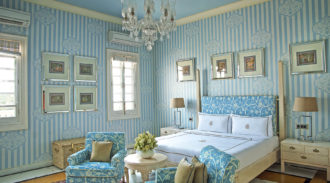 Bathroom:
Mainly white marble, huge in size.
Bathtub:
Yes, different kinds depending on the room.
Storage:
Walk-in closet between the bedroom and the bathroom.
Safe:
Of course.
TV:
Yes.
Pool & Spa
Pool:
Yes, but not heated in the winter months.
Sauna & Steam room:
No.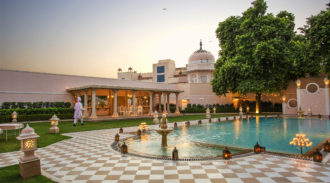 Spa treatments:
Of course.