Patina Maldives

,
Fari Islands, Maldives
First Impressions
Song you should listen to when you arrive:
The Shoes – "Wastin' Time"
Something you will not find anywhere else:
The giant James Turrell art installation.
Best time of the day:
The sunny mornings on the beach.
Atmosphere:
Cool modern paradise.
Room we stayed in:
Two bedroom beach pool villa.
Neighborhood:
Only two neighboring resorts that can be visited for dinners: the Ritz-Carlton and the soon-to-be-opened Capella.
Welcome gifts:
Fruits and a bottle of champagne.
Distance to the next airport:
50 minutes by speedboat from Male International airport.
Service and Staff
Front desk:
Only seen for checkout as everything else is handled by your own "Essentialist".
How long did the check-in take:
Just the handover of the passport and a credit card.
Concierge:
Not needed — your "Essentialist" takes care of any wish you might have.
Housekeeping:
Comes whenever you are not at your villa to check that everything is spotless.
Turndown service:
Of course.
Food and Beverage
In-room dining:
Fast and delicious.
Restaurant:
An incredible variety of food options (10 in total plus two more at the neighboring Ritz-Carlton) are available at Patina ensuring that no matter how long your stay is, you will always find something new and exciting. Make sure to dine at the signature vegan restaurant, ROOTS, as well as the high end Patagonian steakhouse, Brasa. The Fari Beach Club is under the guidance of Michelin starred chef Nik Bril and at Kōen, you can enjoy both Nordic and Japanese cuisine.
Bar:
The Veli Bar offers well-crafted cocktails and is a good spot to meet other guests during your stay.
Breakfast:
Offers pretty much anything you can ask for. The pastries are spot on, and the avocado smash on toast with a poached egg makes for a great start to the day.
Mini-bar:
Stocked with essentials and lots of water.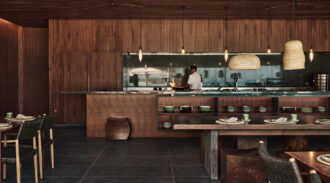 Complimentary Water:
Of course, both sparkling and still can be found stocked throughout the room.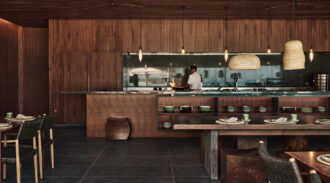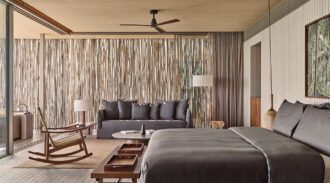 Amenities
Room:
The villas are truly impressive in size and design. The two bedroom beach pool villa offers over 200 m2 of secluded privacy with incredible attention to detail. Thanks to its floor-to-ceiling windows, the space merges seamlessly with the idyllic island landscape.
Bed:
King-size with the highest quality sheets.
Bathroom:
Both bathrooms in the villa are expansive, featuring black marble, wood and sandstone, each equipped with large indoor and outdoor showers.
Bathroom products:
All products by sustainable luxury brand Haeckles.
Bathtub:
Yes, free standing on your porch. Be sure to enjoy a relaxing bath under the stars.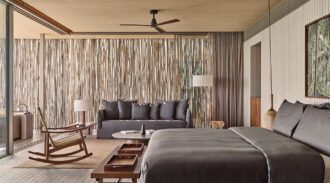 Storage:
The massive closet in each bathroom provides more than enough space, no matter how long your stay is.
Safe:
Of course.
TV:
Two large flat screen TVs in both the master bedroom, as well as the kids' room.
Entertainment options:
The resort offers everything from Nintendo Switch to Playstation 5, just call your Essentialist to set it up.
POOL & SPA
Pool:
Two large pools overlooking the bay and the harbor, plus a decently sized private pool for each villa.
Sauna:
Yes — and it is very beautiful.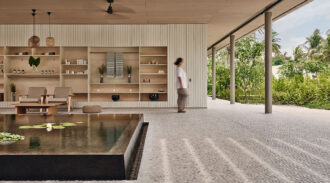 Steam room:
No.
Cold water pool:
No.
Spa treatments:
The Flow spa is not just beautifully designed but also offers amazing spa treatments, from Watsu pools to red-light therapy. The ultimate tranquil space for relaxation, Flow is a must for every guest.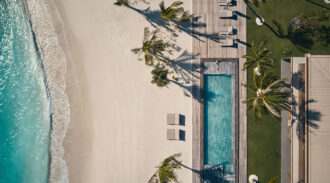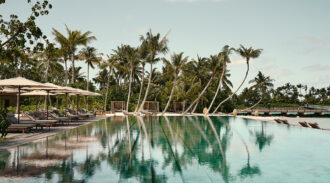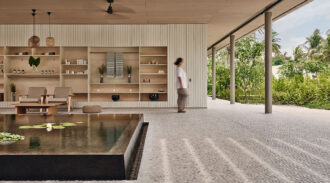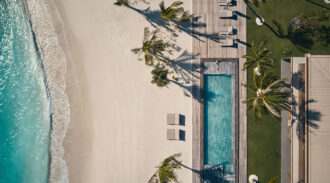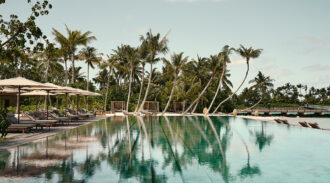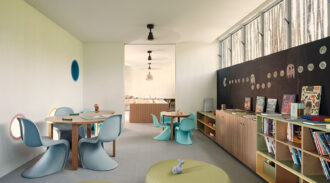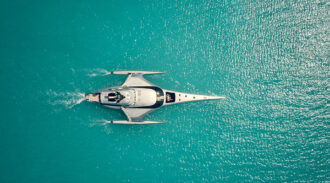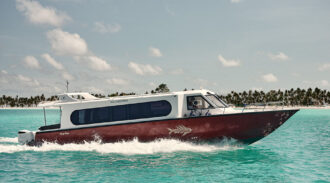 ACTIVITIES
Experiences and excursions:
The list of available activities is long: from snorkeling with whale sharks, dolphins and turtles, to scuba lessons, and paddle boarding in the lagoon. If you don't want to get wet, you can also charter the hotel's own 42m long Adastra yacht for a trip around the Maldives.
Tennis Court:
Yes.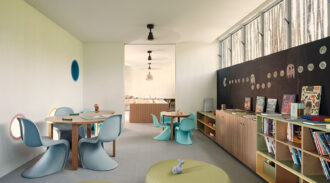 Kids club:
Footprints is a true oasis for kids. The friendly and responsible staff will ensure that your kids not only have a great time, but also enjoy educational activities like 3D printing objects from collected ocean plastic. Check out the weekly calendar to take advantage of free surf lessons, football tournaments, and other fun offerings.