Jumeirah Vittaveli

,
South Malé Atoll, Maldives
First Impressions
A song you should listen to when you arrive:
Alex Ebert – "Truth"
Best detail:
The resort is an easy 20 minutes by boat from Male International Airport.
Worst detail:
You can see neighboring islands from the beach which takes away from the hideaway factor.
Something you will not find anywhere else:
The five-bedroom 3500m2 Royal Residence which includes a private beach, two pools, and a private restaurant.
Best time of the day:
After breakfast when the sun isn't yet at its peak.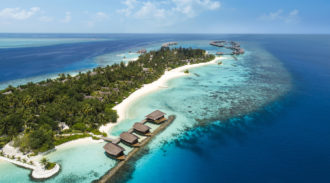 Atmosphere:
Luxury private island beach resort.
Architecture:
Modern with a touch of Jumeirah.
Room we stayed in:
Sunset beach villa with pool.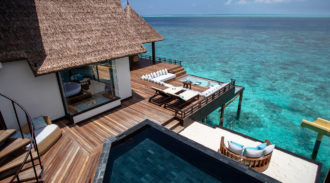 View:
White sand and turquoise waters.
Neighborhood:
A few neighboring resorts, but nothing too close. The island is beautiful and easy to get around by bikes or buggies.
Welcome gifts:
Fruit basket for the adults. Plush toys, cupcakes, and gummy bears for the kids.
Kids friendly:
Yes, very. Large kids' club with its own pool and lots of activities throughout the day.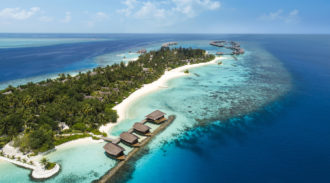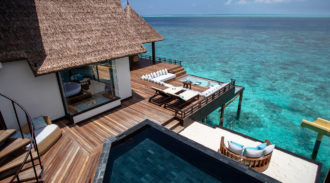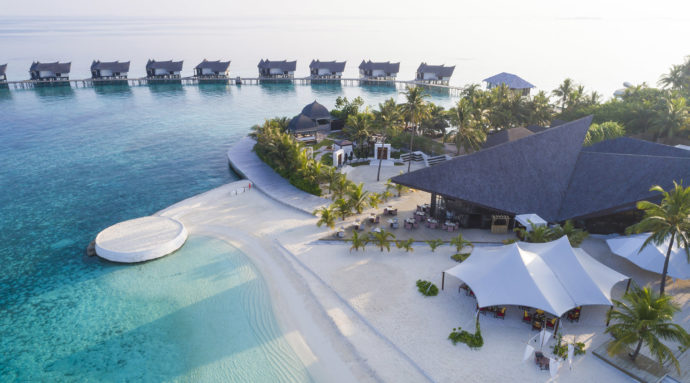 Service and Staff
Front desk:
Only two counters, so it can get busy.
Check-in:
Less than five minutes.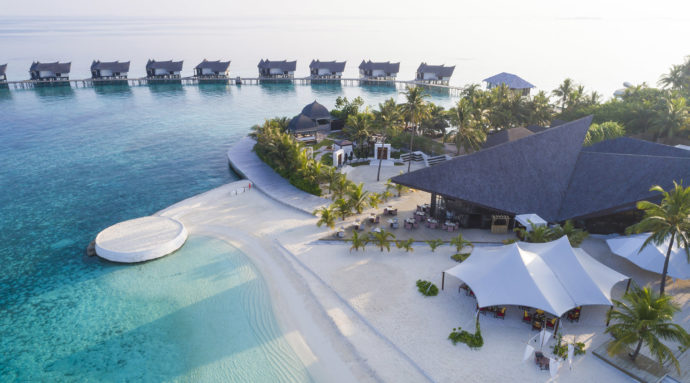 Concierge:
Not needed.
Housekeeping:
Twice a day.
Turndown service:
Of course.
Room service:
Yes — but not the fastest.
Food and beverage
Restaurants:
Five very pricey restaurants, especially the French and Indian options are well worth it though. Service can be slow in the other restaurants, so be prepared to bring some time.
Bar:
Well stocked and only really busy during sunset.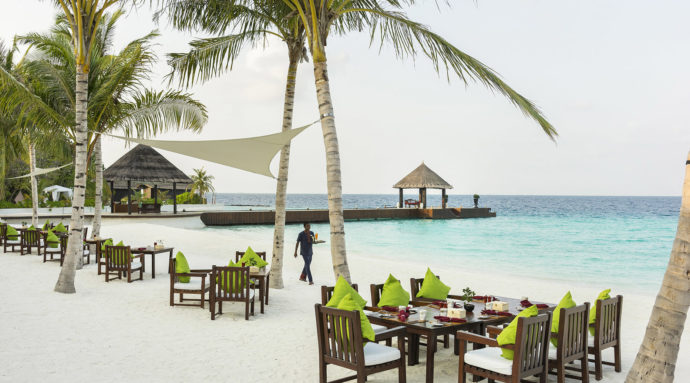 Breakfast:
Extensive buffet with all the classics including different cooking stations and à la carte options. Make sure to ask for mangos, even though they are not on the menu.
Mini bar:
All the classics, plus nuts and dried fruits.
Complimentary water:
Everywhere in reusable glass bottles.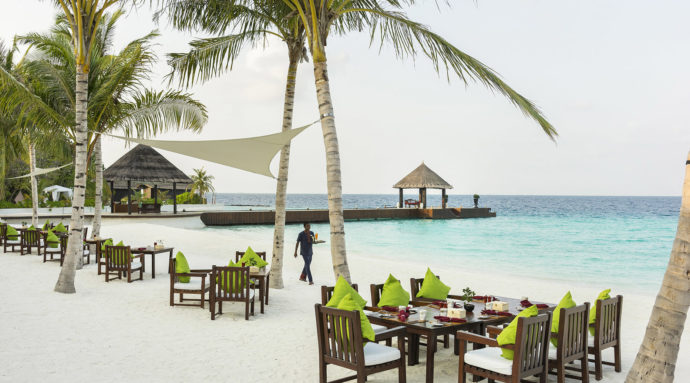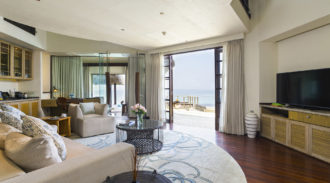 Amenities
Villas:
Very spacious, each with private pools. In the beach villas, hop in from either the bathroom or the porch for a proper swim in a luxe L-shaped pool.
Bed:
King size only, incredibly comfortable.
Bathroom:
Very large, with a roof but no walls. Double sinks, and a separate vanity.
Bath tub:
Free-standing outdoor bathtub.
Shower:
One indoor and one outdoor.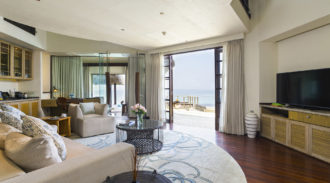 Bathroom products:
Acqua di Parma.
Storage:
Walk-in closet with plenty of space.
Safe:
Yes.
TV:
Yes.
spa
Sauna:
No.
Steam room:
Steam showers are available inside the changing cabins of the treatment rooms.
Cold water pool:
No.
Spa treatments:
Great variety, great quality.
Yoga:
Twice a day complimentary yoga classes, private ones also available on request.
Water:
Everywhere but ask for the ginger lemongrass iced tea before your treatment.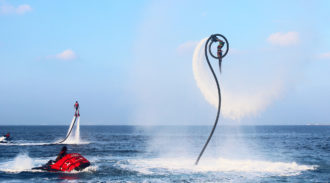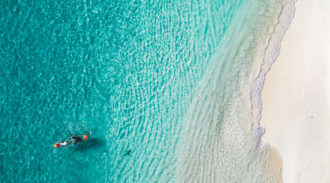 what to do
Activities and excursions:
The diving center operated by Best Dives offers a huge selection of activities to choose from: private snorkelling and diving trips are a must in the Maldives, but wind surfing, Seabobs, Jet Skis and even fly boards are also available. Take a sunset cruise or a fishing trip with the hotel's own luxury yacht — encounters with dolphins are almost guaranteed. The semi-sub gives kids a unique underwater experience.
Pool and Beach
Pool:
One main pool, one in the kids' club. But because of the large sized private pools there is hardly any need for them.
Beach:
White beach and turquoise water all around the island.