Duba Plains

,
Okavango Delta, Botswana
First Impressions
Song you should listen to when you arrive:
Beta Band – "Dry the Rain"
Best detail:
The incredible nature and wildlife surrounding you every day.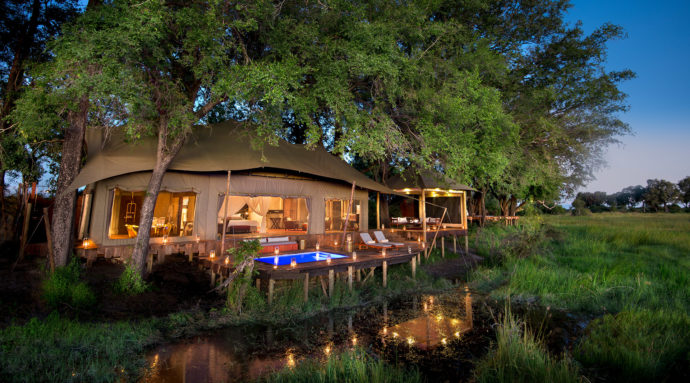 Worst detail:
Your photographs won't even come close to doing the atmosphere justice.
Something you will not find anywhere else:
Being surrounded by thousands of animals with no other humans around.
Best time of the day:
Sunrise at 5am when the animal kingdom wakes up.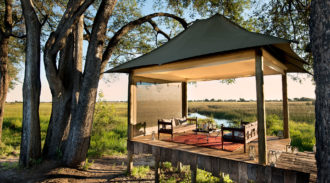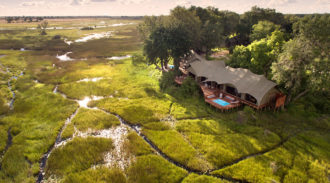 Atmosphere:
Roaring animals set a very special tone.
Architecture:
Classic safari camp with modern elements.
Room we stayed in:
Duba Plains Suite, a 220 m2 tented villa with two bedrooms, two bathrooms, two plunge pools, and a very spacious living area and deck.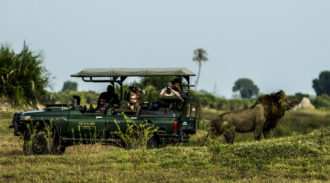 View:
Okavango Delta from every angle.
Neighborhood:
77.000 acres of savannah in a private game reserve.
Welcome gifts:
Juice, cookies, fruits, plus hand-beaded wrist bands.
Distance to the next airport:
Three minutes from the private airstrip, reached easily from Maun via Mac Airways.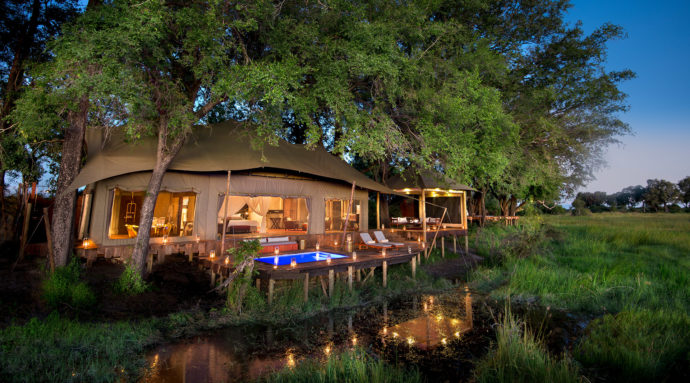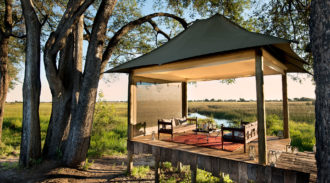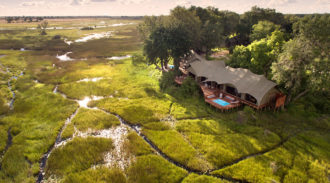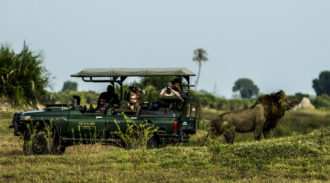 Service and Staff
Service:
Lizzy, the Duba Suite manager not only fulfills every wish imaginable, but also has an incredible knowledge of Botswana's history.
Front desk:
No need.
Concierge:
Not needed – Lizzy takes care of it all.
Housekeeping:
A staff of three, taking care of only you and your company.
Turndown service:
While you're having dinner.
Room service:
Not needed, Duba Plain Suite has its own private chef.
Food and Beverage
In-room dining:
The wonderful chef will cook whatever you feel like; be sure to try some Botswana beef, one of the country's main exports.
Restaurants:
There is a common area where you can have dinner with the other guests of the camp if you are looking for company.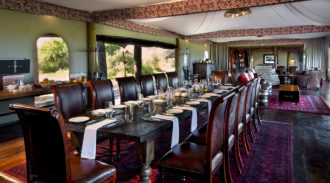 Bar:
Each room is fully stocked with over 50 different bottles of alcohol. All drinks are included, save for imported vintage wine (found in the cellar) and certain high-end liquors.
Breakfast:
Enjoy it at the villa, or ask for a packed breakfast in the savannah during your morning game drive. We suggest some fruit at the villa and then a proper breakfast with elephants a couple of hours later.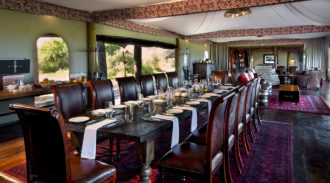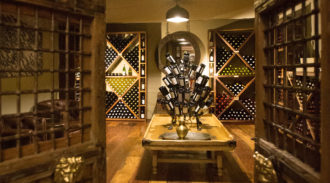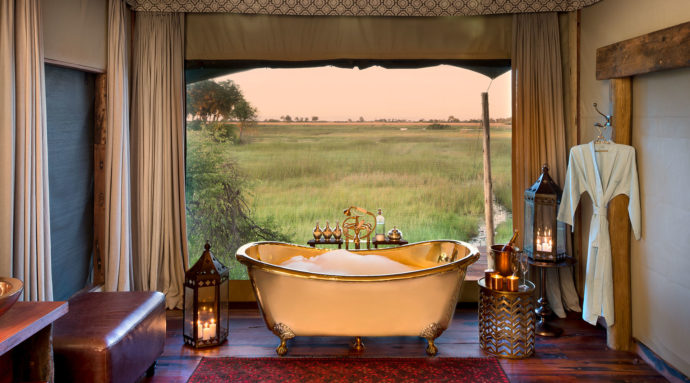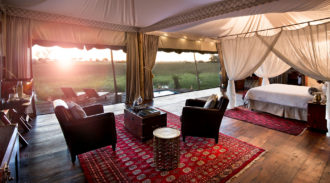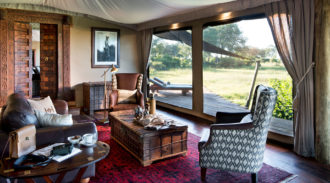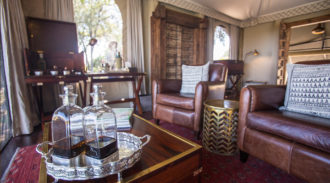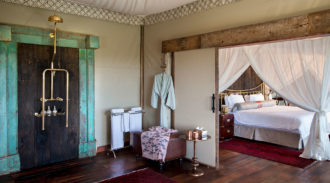 Amenities
Villas:
The two bedroom villa is truly stunning. The colonial-style interior and antique wooden floor set a beautiful atmosphere that works well with the surrounding nature.
Bed:
Everything you could ask for: king size with crisp white cotton sheets and an air conditioner above your head.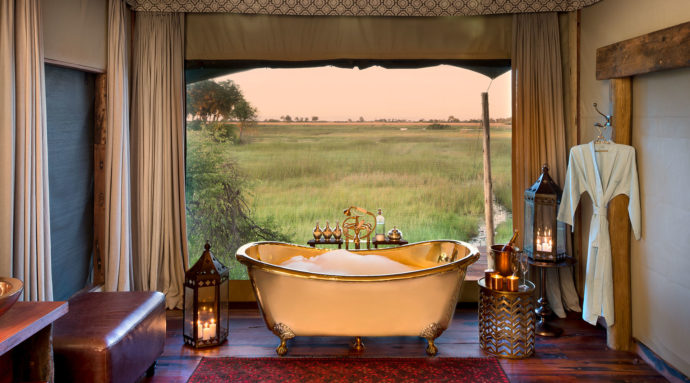 Bathroom:
One of the best parts of the villa, very spacious with brass details and beautiful carpets.
Shower:
Brass-finished rain shower heads. There are no tiles in the bathroom, even the shower runs onto the beautiful wooden floor.
Bathtub:
Free standing brass bathtub overlooking the savannah — especially in cooler months, you won't find a better place to take a bath than here.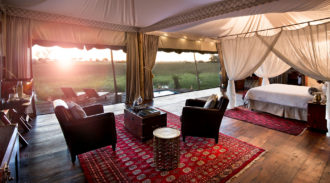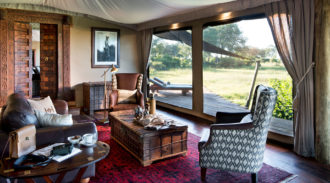 Bathroom products:
Locally-sourced in environmentally friendly ceramic jars.
Storage:
Walk-in closets in each bedroom with a very spacious set of cupboards and armoires.
Safe:
No need, only the monkeys could steal your stuff!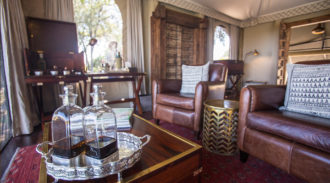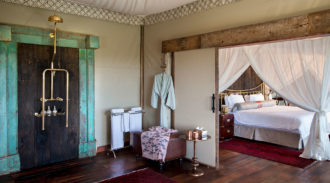 TV/Wifi:
No TV, but wifi is included.
Entertainment options:
Sit on one of the terraces and watch the hippos walk by.
Extras:
Professional Canon camera equipment including multiple lenses as well as multiple binoculars are provided, so no need to pack your own.
What to do
Experiences and excursions:
There is no better place to go on safari than Botswana's Okavango Delta. Excursions can be done via car, boat, or even by foot. Drive out by car and return by boat to watch hippos swim while crocodiles cool down and elephants drink from the shore.
Car:
A beautiful open-top Toyota Land Cruiser converted into the perfect safari vehicle: elevated seats, no doors or windows, and wooden arm rests.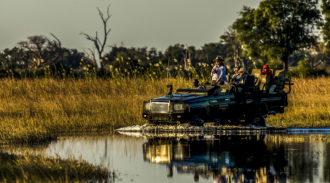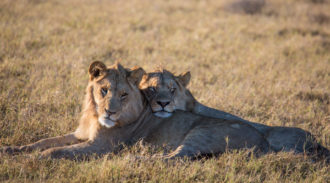 Guide:
Guides are extremely knowledgeable and highly skilled trackers. Within a day he will be able to show you four of the big five (there are no leopards in the reserve).
Animals to see:
You'll see almost every local game animal — there are even a few rhinos around — extremely close up thanks to the private reserve. Ever wanted to see a pride of wild lions from a meter away? This is the place for you. If you are lucky you will be able to see more then 500 animals at once when you stop in the savannah.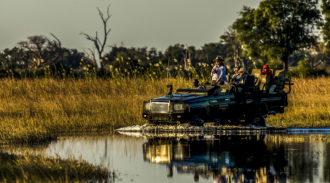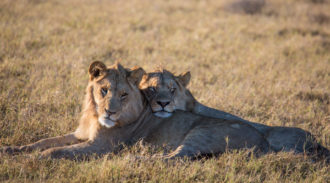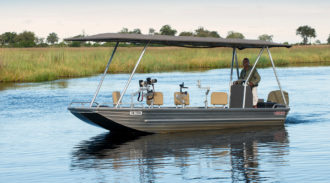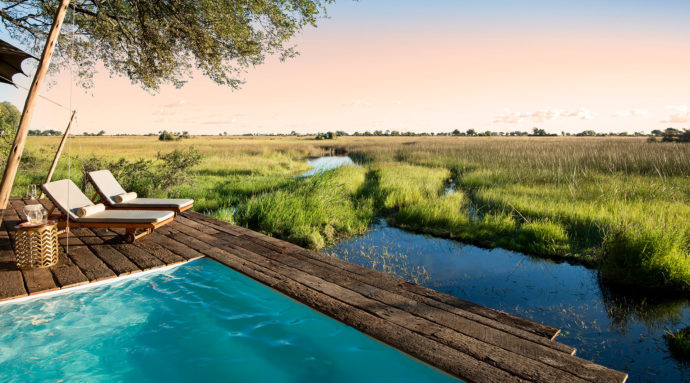 Pool/Spa
Pool:
Two small pools, one in front of each bedroom. As it gets very hot in the summer months this is a great option to cool down in the middle of the day.
Gym:
You'll find rowing machines and stationary bicycles next to the pool if you'd prefer to work out while watching the animals from your porch.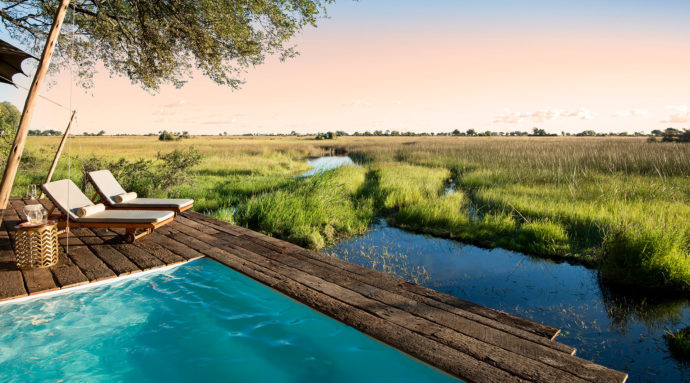 Spa treatments:
In-room massages available on request.