Chikwenya Camp

,
Mana Pools National Park, Zimbabwe
First Impressions
Song you should listen to when you arrive:
"Boat to Nowhere (Anoushka Shanker Remix)" – Matt Robertson
A book you should read before you go there:
The Secret Life of Trees – Peter Wohlleben
Best detail:
Hot water bottles hidden in your blankets, just after dinner.
Something you will not find anywhere else:
Its scenic and stunningly remote position within the river landscape.
Best time of the day:
Sunset on the boat, cruising the Zambesi River.
Atmosphere:
Hippos meet crocodiles and bathing elephants on the border between Zambia and Zimbabwe.
Architecture:
A unique safari style camp with seven luxurious tents, situated on the Eastern Boundary of Mana Pools National Park and overlooking an open floodplain of the Zambesi River.
Room we stayed in:
Family room with its own plunge pool.
View:
Overlooking grasslands, the Zambesi River and the faraway trees of Zambia.
Neighborhood:
Nothing but wilderness.
Welcome gifts:
Iced coffee, warm towels, guide to animals.
Service and Staff
Front desk:
There is no front desk but the staff is pleasantly omnipresent.
How long did the check-in take:
There is no check-in; you are greeted with your first name and escorted straight to your room.
Concierge:
Everyone on the 20+ staff people is a concierge on their own.
Housekeeping:
Happens hidden while being out in the bushes.
Turndown service:
Hot water bottles, bedtime stories, ice cold water.
Food and Beverage
In-room dining:
Surely possible, but you will prefer the intimate tables in the main camp section. If you wish they will set up dinner for you in complete privacy.
Restaurant:
The camp offers great quality traditional African cuisine.
Bar:
24/7, self-service, with anything you can imagine.
Breakfast:
Served at six am before your morning game drive, consisting of warm oatmeal, muesli, cereals, eggs, ham, cheese, fresh muffins, orange juice, coffee and tea.
Mini-bar:
Not needed due to 24/7 self-service bar.
Complimentary water:
Everywhere, but all drinks are complimentary anyways.
Amenities
Room:
Seven tented rooms. Two family rooms with a bit more space.
Bed:
Very comfortable, surrounded by white mosquito nets (and the sounds of hippos nearby) overlooking the river.
Bathroom:
Within the tented room, with indoor and outdoor shower possibilities.
Bathtub:
White, standing freely in the room setting.
Storage:
Plenty.
Safe:
Yes, but not really needed.
TV:
The nature.
Entertainment options:
Just sit and watch.
Pool & Spa, Activities
Pool:
Small private pools in front of the family tents, but very cold due to its remote location.
Sauna:
No.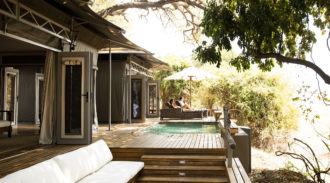 Spa treatments:
No.
Activities:
Boating through the Zambezi River, with sundowner cocktails in a stunning surrounding. Morning and evening game drives through open grasslands, dried out riverbanks and dense forests are truly stunning. Canoeing and fishing ensure that every excursion is different. The density of animals is varied: you will see anything from elephants, hippos and crocodiles, to baboons, jackals and impalas. You will be enchanted by the amazing surroundings, and after a few days you will feel at one with nature.