Belmond Savute Elephant Lodge

,
Chobe National Park, Botswana
First Impressions
A song you should listen to when you arrive:
Nils Frahm – "Ambre"
Best detail:
Located right in the Chobe National Park surrounded by an incredible variety of wild animals.
Something you will not find anywhere else:
Dinner with 100 Elephants.
Best time of the day:
Safari at sunrise, the lodge overlooking the watering hole at sundown.
Atmosphere:
Modern sustainable luxury meets African Safari Camp.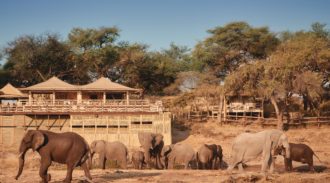 Room we stayed in:
All rooms are more or less the same.
View:
Every room faces a path to and from the watering hole guaranteeing lots of animal traffic.
Neighborhood:
A couple of other lodges in the national park, nothing else.
Distance to the next airport:
Air strip is a 30-minute game drive away.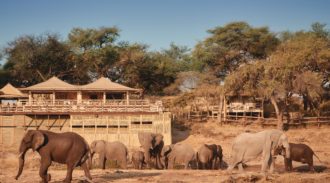 Service and Staff
Service and staff:
Extremely knowledgeable and welcoming. Your guide will become a friend in only a few days.
Front desk:
Only needed for the check-out, really.
Check-in:
Everything is prearranged. No check-in needed.
Concierge:
Not needed. Your guide can organize anything you need.
Housekeeping:
Fast and clean, checking in when you are out on safari or at dinner.
Room service:
No traditional room service, food from restaurant can be brought to your room on request.
Food and beverage
Restaurant:
Offers great à la carte options for lunch and dinner — rare for a safari lodge. The restaurant's outdoor area overlooks the watering hole which attracts animals all day. During a two-hour dinner a large amount of elephants, buffalos, hyenas, and even a leopard stopped by.
Bar:
Incredibly well-stocked. There is so much choice, it's hard to figure out what you want to drink.
Breakfast:
Either at the lodge or out in the bush. We suggest eating light before you leave and requesting a proper packed breakfast to enjoy a couple of hours later in the wild.
Mini bar:
One inside your room and another one on the terrace.
Complimentary water:
Everything is complimentary or included in your room package.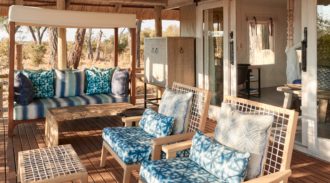 Amenities
Villas:
12 luxurious and freshly renovated tented rooms, each with a spacious private deck including a day bed and two lounge chairs. In comparison to other lodges this one has more of a contemporary luxury feel than a colonial safari one.
Bed:
Incredibly comfortable four-poster bed with surrounding white mosquito netting. Keep your blinds open for amazing morning views.
Bathroom:
Modern with marble and wood detailing. Both indoor and outdoor showers plus double sinks.
Bathtub:
No.
Storage:
Two large wardrobes that feel more like dressing rooms. Lots of space and same-day laundry service included. No need to bring much.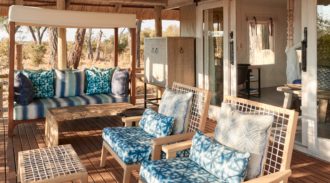 Safe:
Of course, but not needed.
TV:
No need: the terrace offers real life cinema at every hour of the day.
Entertainment options:
Wireless sound system in the room.
Pool & Spa
Pool:
Decent size plunge pool for cooling off on a hot day. It overlooks the watering hole, so you'll have great company.
Sun chairs:
Comfortable and spaced apart for privacy.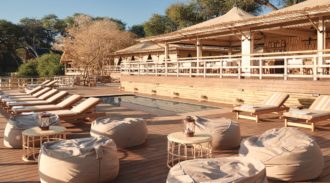 Sauna:
No.
Steam room:
No.
Spa treatments:
Can be arranged in your room.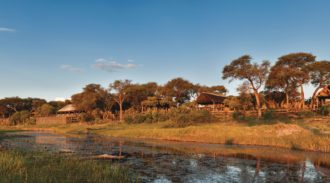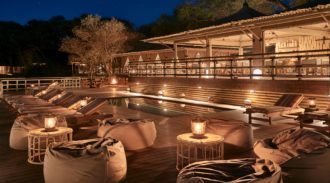 Yoga:
Best done on your own terrace overlooking the National Park.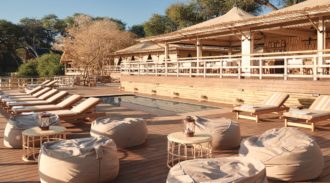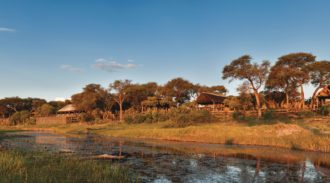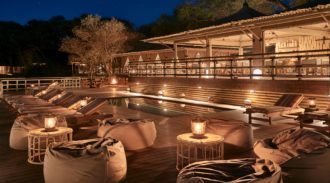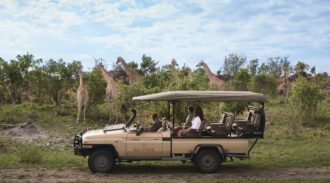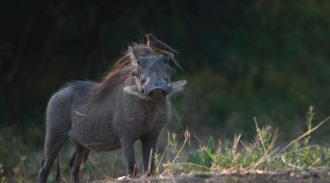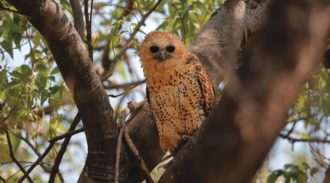 What to do
Experiences and excursions:
Chobe National Park is one of the best destinations for safari in Botswana. Besides the animals, ask your guide to show you the giant, centuries old trees, and ancient stone drawings.
Car:
A beautiful Toyota Landcruiser converted into the perfect luxury safari Jeep outshines any other camps at the airstrip.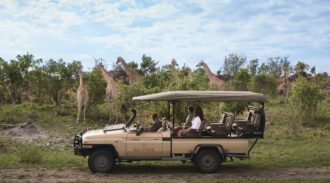 Guide:
A highlight at Savute. Guides are quick to track down animals and even quicker with interesting facts about them. Ever dreamed of breakfast with elephants? Just ask and he'll make it happen.
Animals to see:
Besides rhinos, you'll see almost any animal Botswana has to offer: leopards, large prides of lions, and of course, elephants by the hundreds.